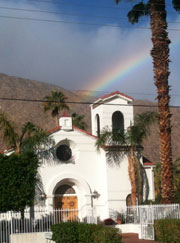 "We are a warm, open-minded, family of Christians seeking to reflect the joyful diversity of our place in the palm of God's hand"
A welcoming, affirming, friendly and open faith community, we seek to provide an experience that offers the heart of tradition with a touch of jazz; a place where the Spirit can thrive and hearts filled. If you would like to connect with people whose faith seeks to example love and possibility, and pursue hope, joy and personal transformation, Palm Springs Presbyterian Church is ready to welcome you!
The Presbyterian Church (USA) has been part of the Palm Springs experience since 1917, and Palm Springs Presbyterian is a renewal of that presence in the Community. Our church home, located just off South Palm Canyon in Palm Springs, seeks to be a center for all of our neighbors and extended community; celebrating the joy of our faith, offering music concerts in a variety of styles from classical to jazz, and as a gathering place for meetings and events. We believe that Christ calls us to demonstrate love above all, and that by opening
not only our doors but also our hearts to all who enter we can experience and express God's hope for us in Creation.
Our congregation is made up of active, inquisitive, worshiping, fellowshipping, joyful members who seek to grow in 'Grace and Knowledge' as we explore the true meaning of Jesus' ministry among us and reach out as God's people in the world. We are a community that supports those within our church and within the community, and engages the world around us through prayer and action. We invite new ideas to further the love and grace we experience to others.
Palm Springs Pres seeks to become a reflection of God's incredible Creation, embracing the diversity of all God's children, accepted and wholly loved. We are a Congregation with a blend of traditional, contemporary and relaxed styles of worship with Jesus Christ at the center.
While we are a mission-minded group, we also love good food and finding every opportunity for fellowship! We invite you to join us on our journey, to meet new friends, explore the deep, rewarding well of spiritual reflection and experience the generous love of Jesus Christ.
I am blessed and grateful for being part of this great community, pursuing an exciting, welcoming ministry, and hopefully, meeting you!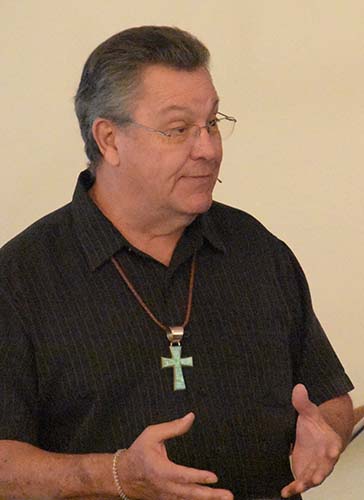 Wishing you Gods Peace,
Rev. Bruce Myers,
Interim Pastor